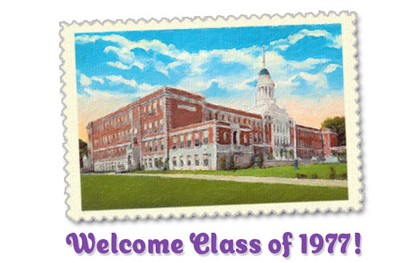 This website is for you, the members of the Class of 1977. It will be used to announce events such as reunions, sharing photos, and just keeping in touch. We will be updating "losts" and "founds as well as bereavements. We can finally and easily stay in touch.
The Home Page will not contain personal information. Only those who create a password can access your personal information and only that which you choose to put here.
So start now. Click on "JOIN HERE" in the gray "Members: Log In" box on the upper right side of the page and then follow the instructions. Once your identity has been verified by the Administrator, you will gain full access to the site. Normally, this will take anywhere from a few minutes to a day or two. Upon completion, you will receive a welcome message directly from the web site. In order to ensure you receive this, as well as other important email messages from our site, please add noreply@classcreator.net to your address book or safe sender's list.
Be sure to check out the Site 'First Time' pages for information on how to use the site.
If you have any comments, questions or suggestions, please email info@phs77ma.com

MEMBERSHIP DISCLAIMER: This is a private site maintained by the PHS 1977 Reunion Committee. Classmates from '76 or '78 that did not graduate with the class may be admitted on a case by case basis as a 'Guest Member'. All membership will be granted or denied. The privacy and security of all registered members is top priority for the purpose of invitations, admittance, denials and revocations. The sole purpose of this site is to facilitate communication between the PHS '77 community of graduates.